We live in the territory of the Dena'ina and our work takes us to the lands of many Indigenous Peoples of Alaska. We are grateful for their hospitality. We are the only veterinary anatomic pathology service in the state of Alaska. We offer both diagnostic and research based pathology for wildlife as well as domestic animals. This includes necropsy, histopathology, microbiology, nutritional analysis, toxicology, etc. for full work up of cases. In addition, we have experience with live health assessments for Steller sea lions, beluga whales, caribou, moose, musk ox, sea otters, harbor seals, fur seals and bears. Please get in touch to discuss your project's needs.
Staff Bios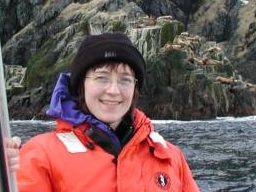 Dr. Kathy Burek-Huntington is a board certified veterinary pathologist who had been in business with AVPS for 25 yrs. She has contracted with USGS, USFWS, the Alaska Public Health Laboratory, UAA, UAF, ADF&G, NMFS, NMML, The New Zealand Bureau of Ministry, CA Game and Fish, NW ZooPath as well as private veterinary practitioners. She has a keen interest in zoonotic diseases, climate change issues and supporting the subsistence users to whom Alaska's wildlife are a critical part of their way of life.  
Questions regarding pathology, anatomy, and necropsy procedures should be directed to Dr. Burek [email protected] or (907) 242-2566
Natalie Rouse has been a biologist for 17 years and has been working with wildlife pathology for 13 years. Before working at AVPS she was the laboratory coordinator for the veterinary department at the Alaska SeaLife Center and worked at Colorado State University/CPW Wildlife Health Program before that. She received her MS degree from the University of Alaska Anchorage in 2018 examining Streptococcus bacteria (a common marine mammal pathogen) in the environment in Southcentral Alaska.
Questions regarding shipping, supplies and inventory should be directed to Natalie at [email protected]. In the event Dr. Burek is out of town during a potential necropsy, Natalie will help coordinate a team of local volunteers and veterinarians in the stranding network for a response.